The Closed Beta is a beta for the upcoming Jagex game, Stellar Dawn. Stellar Dawn is a new intellectual property aimed at young adults in their twenties and early thirties. Jagex is currently not working on Stellar Dawn but may in 2014/2015.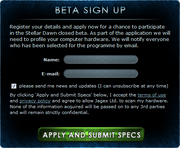 Beta Release
Edit
On 14 July 2010, Jagex launched the Stellar Dawn website, and announced the closed beta, with the option to sign up immediately.
Becoming a Beta Tester
Edit
To apply for your chance to become a beta tester, follow these simple steps:
Go to the Stellar Dawn homepage at www.stellardawn.com.
Enter your date of birth (DOB).
Click apply in the beta sign up section.
Enter your real name and email address.
Click apply and agree to send your computer specs.
Check your email.
On 27 July 2010, Jagex announced a writing competition in which players create a short story using any of the concept art on the official Stellar Dawn website as inspiration. The five winners are guaranteed entry into the closed beta. This showed that it is very likely only a small number of people out of everyone who has applied for beta testing will actually be allowed to participate in the beta.
On 12 October 2010, Jagex released an art competition where players could submit their fan art, again based on the concept art. This competition provided five fans with another chance to get into the closed beta, and on top of that they will receive a Stellar Dawn hoodie.
Ad blocker interference detected!
Wikia is a free-to-use site that makes money from advertising. We have a modified experience for viewers using ad blockers

Wikia is not accessible if you've made further modifications. Remove the custom ad blocker rule(s) and the page will load as expected.